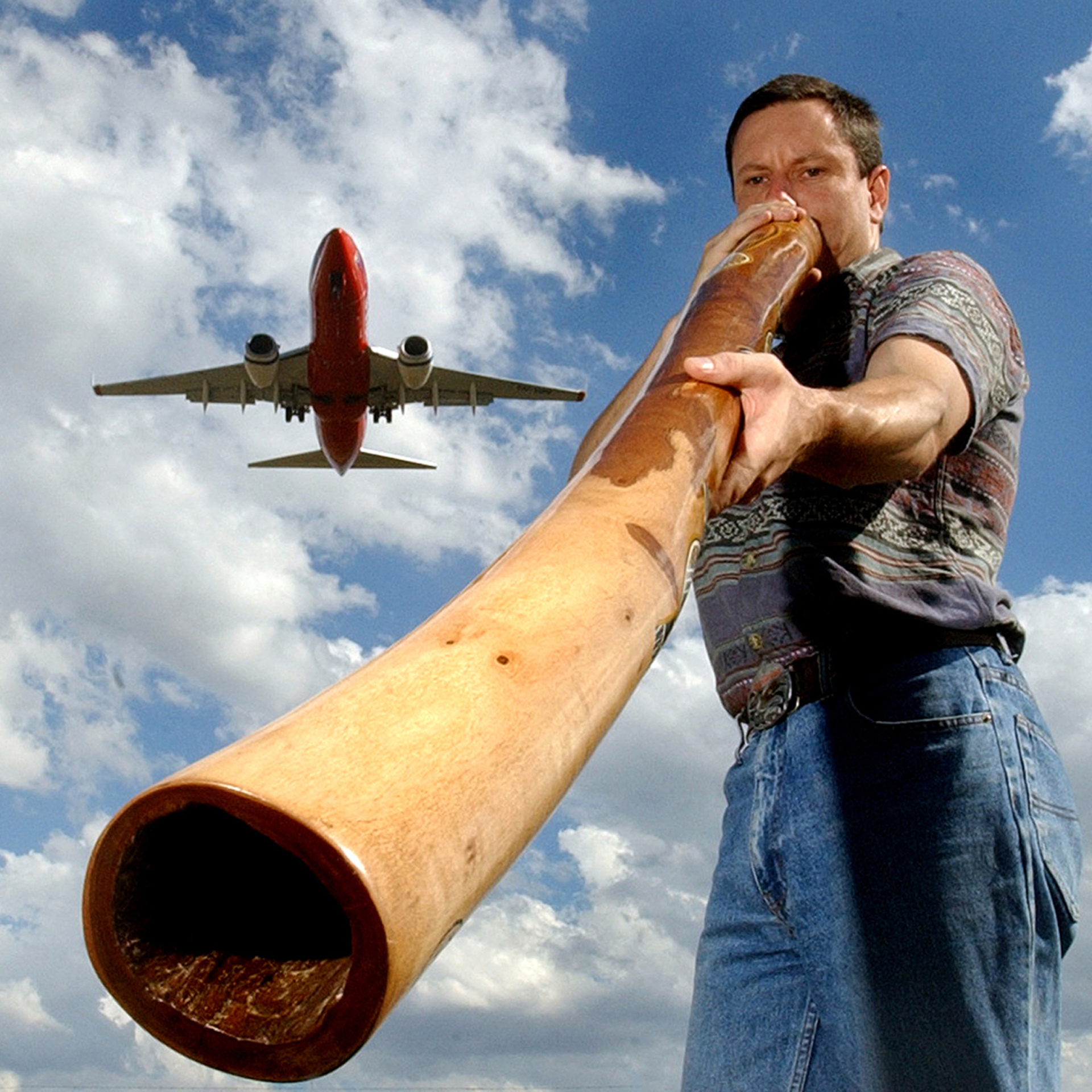 Didge in a Day history
The Didge in a Day program was started around 2006 and from the beginning was a success. Over the past decade and more, we have witnessed some amazing and positive results! Every person who has ever been part of the program has been positive about it. We generally work with someone either in an official role or from the local Indigenous community (or both) whenever we run these programs, and to make these connections is our aim. This has been a great encouragement to us and has spurred us on to do more to help and uplift, and to foster meaningful connections between all people.
We have found that these workshops are also effective in the areas of special needs—both within schools and the justice system and we are always looking for new ways to spread the positive vibes!
Didgeridoo blanks
We also collect 'blanks' (termite hollowed trees), and season them, making sure that they are of the high standard that will allow for the crafting of a high quality, functional didgeridoo. We use these blanks in the Didge in a Day workshops and also sell them direct.
About Alex
Alex Murchison, the creator of the Didge in a Day program, has been involved with the Didgeridoo for over 20 years now. Alex is not Indigenous, but has a heart to help and support First Nations people.
He is a didgeridoo player, maker, and tutor, as well as being the teacher for the Didge in a Day program. His passion is education, where he is able to work with people and pass on his knowledge to them.
"Learn to Play" curriculum
Over the years Alex has developed a "Learn to Play" curriculum that progresses from beginner through to performance level. He has developed a unique style of writing out the music of the didgeridoo and delivers an assessment based, modulated course with certificates. He is also the presenter for an in-depth "How to Make a Didgeridoo" tutorial and a short and succinct beginner's guide DVD called "Quickstart Guide: Learn to Play the Didgeridoo".
Custom Made Didgeridoos
As didgeridoo makers for over 20 years, we are able to provide a custom made service, where we can create the instrument that you have always wanted.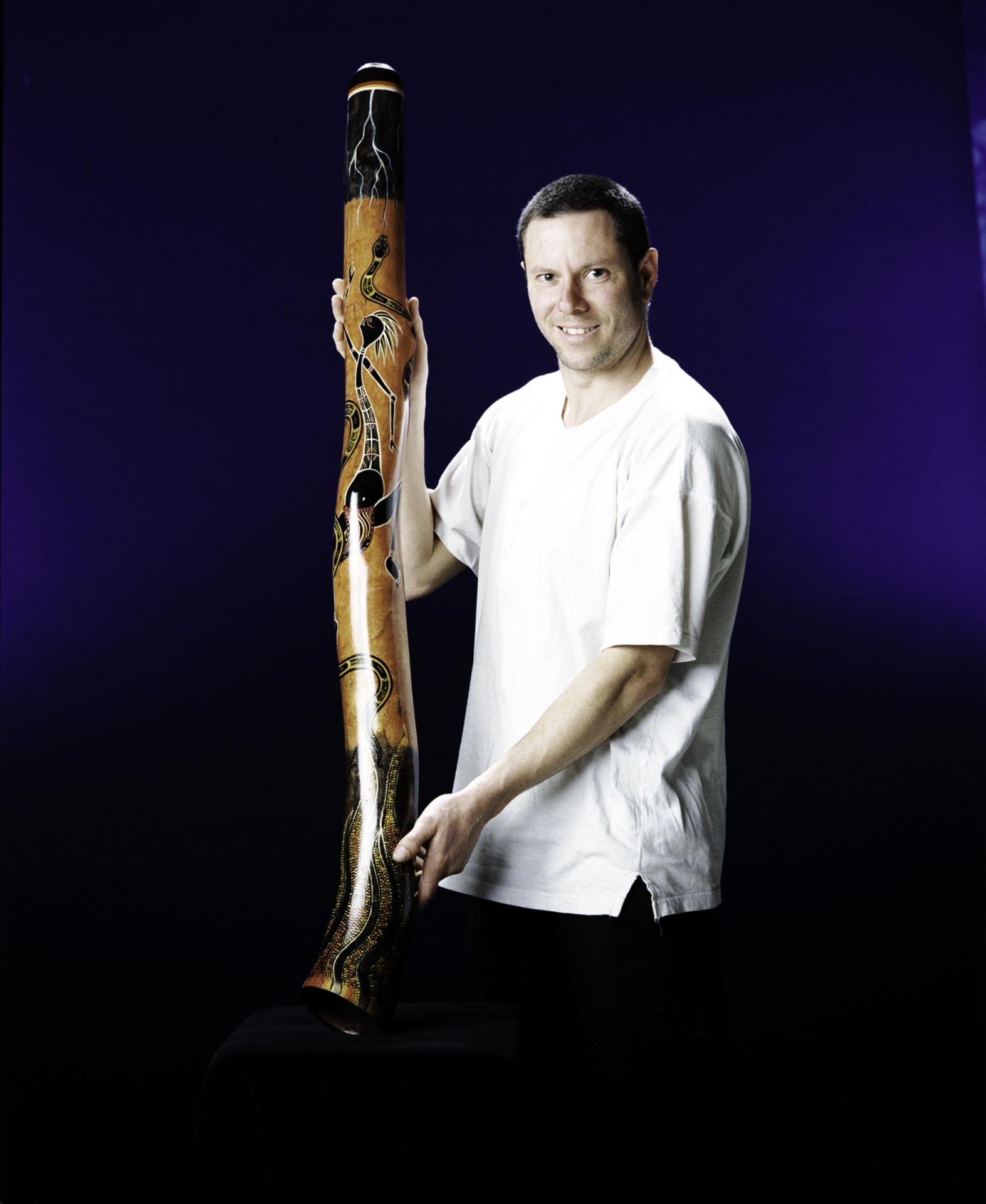 Public Liability Insurance
Please view our PLI Certificate below.
Working with Children Check
Current Working With Children check number: WWC0031271E.
Statement of Support Regarding Didge in a Day as a Business.
Dear brothers and sisters,
In the past, there have been times that I have received criticism regarding the running of the 'Didge In a Day' program and business. I would like to provide information regarding the support we have for this program, and answer some of the accusations that have been levelled against me.
Firstly, I want to clearly affirm that at no time has any offence ever been intended, but rather the exact opposite has been my ideology regarding the operation of the Didge in a Day workshops. My desire is to have respect for all people and to treat them is I would want to be treated. In the over 10 years that I have been running this program, I have never encountered the level of negativity that has recently surfaced, and therefore I have never before had the need to clarify things to the level I am about to. I have always been completely transparent with my customers regarding my non Indigenous identity and this has always been all the was needed.
I have been asked what right I have to do this and what support and permission I have to run these programs that are associated with the didgeridoo. I have already spoken about my journey, but did not name names out of respect for those involved until I had spoken to them and gotten their official endorsement and permission to put up their details under the current circumstances. This I now have and so am going to tell my journey again, but with the more specific details.
A bit over 20 years now, my brother and I were encouraged by the local mob to go bush and find some blanks and make some didges and sell them at the then up-coming 2000 olympic games. At that time we were both living down in far south NSW, and had the help and support of some elders from the South Coast Yuin mob, part of the Black Duck tribe. They still are our close friends and brothers and still give us their strong support and endorsement. Well, we never did get to the olympics but a passion for the didgeridoo was sparked within us. We started to make high quality musical level didgeridoos with the support of the local Indigenous community. Over the years I found that I also had the talent to teach, and developed a 'Learn to Play the Didgeridoo' tuition curriculum, and also the 'Didge in a Day' program. My brother who is an Aboriginal still makes the high quality didgeridoos and lives in an Indigenous community. Both of us have a heart for helping all people and that includes those of all nations. The Yuin elders have told me to let those who have issues with what I am doing to contact them or go and see them face to face. They are very happy to explain the situation and give their support to the Didge in a Day program and the good that it is doing.
Very often there is an AEO or similar Indigenous representative who works along side me when I run the workshops. I would like to see this happen more, but in some places the schools lack support in this area and just want to give the boys a positive and practical experience. I have encouraged and largely left it up to the schools to make these local connections, and understand that some schools have struggled to find local community representatives who can come and work with the boys during the program. I have been told by some educators that they cannot find anyone who can deliver the sort of program I offer, and so this is where I desire to work with, and to lift up both the students participating in the program and those in the community who would like to be part of, support and learn how to facilitate such a program. I would be willing to offer my support to interested people with the view that they could eventually run the programs in their local area, and I could step away, something that has always been my vision. (Making a didgeridoo is the easy part, compared to the often complicated back end business regulations and requirements that must be met to make a program like this successful.) The Didge in a Day program can only become truly successful if others can be equiped to run it and therefore allow it to grow into many areas with many educators facilitating it, where there is collaboration and cooperation between us all to move forward together in a positive direction. I have always worked towards creating stronger relationships through bridge building and reconciliation. The desire of my heart is to help and to build up.
I am in fact invited to run these workshops by Indigenous educators, some of whom are the principal of the school that I am invited to come to. Any person, black or white, who has ever been part of the program has only ever been positive about it. It is a fact that for over a decade of running this program I have only been criticised by those who have not been part of the Didge in a Day program and who do not know me personally.
I have found the didgeridoo to be a connection point from which people (and especially Indigenous folk) can be lifted up and strengthened with courage and confidence to move forward and live and cope in this crazy world. Because I do not teach the culture, am not Indigenous, and do not teach the art, I use the Didge in a Day program as the starting point or entering wedge to begin a greater journey with the didgeridoo, where these and other cultural layers can be added by others who are qualified in these areas as desired. This then often starts a journey for them that allows for cultural activities, and even helps to promote Indigenous culture and business where it otherwise may not have started at that time. As already mentioned, I am not Indigenous and do not teach the culture or art, just the woodworking workshop.
Regarding the website, I have always been very transparent and clear about my non Indigenous identity whenever contacted by a potential customer interested in possibly running a Didge in a Day program. I have now moved to make this clarity greater and very clear on our website.
For the nearly 15 years I have run these workshops now, I have been affirmed and encouraged by all those who experience first hand what I do. The programs have always been a peaceful, uplifting and awesomely positive experience for all involved. I have generally worked with someone either in an official role or from the local Indigenous community (or both) whenever I have run these programs, and this continues to be my aim. To collaborate and support, to build bridges and foster reconciliation has always been my goal and desire. I have a heart to help people and to work with and support Indigenous folk.
The Didge in a Day program plants a seed, it's a catalyst or an entering wedge, that often starts an interest and fosters the promotion of culture and business within that local community. Rather than taking money away from Indigenous people, the program works to bring business that may not have otherwise existed in that community.
I would like to thank all those who have who have shared and offered advice in a balanced, respectful and polite way. I value that spirit and try to live that way myself. If you would like to ask me any more specific questions please feel free to contact me privately.
All the best,
Alex Murchison.